an innovative moulding system
At the factory in Gallo (Ferrara), we have implemented
the Roteax GMJ101 machine and accessory systems.
This injection moulding machine created by all-Italian know-how processes homogeneous and/or heterogeneous composite plastic materials from recycling.
Injection moulding at very low pressures, with wide passage, makes it possible to transform and uniform plastic conglomerates through a specifically designed plastic mixer. All products that we make (such as pallets) are reusable and recyclable at the end of their life cycles.
The secondary raw materials are loaded into the feeding silos.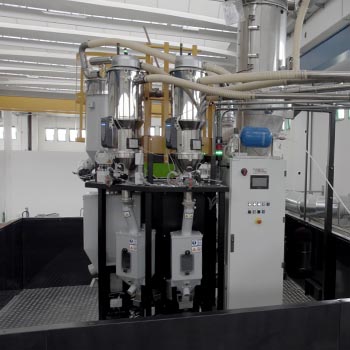 They are transferred from the silos to the dosing and mixing systems.
The materials are then conveyed to the plasticiser screw, which homogenises and degasses the plastic material to prepare it for the injection stage.
Injection moulding is done at low pressure,
in a rotating structure with four places containing the aluminium moulds with stainless steel inserts, and a press that contrasts the injection pressure.
After injecting the plastic conglomerate into the mould, the system starts the cooling stage. The machine has hydraulic opening and closing mechanisms for the mould.
The machine is electronically controlled to manage the injection cycle parameters (speed, pressure, temperature, cooling times) and to guarantee excellent performance in terms of product homogeneity and productivity.
The machine is fitted with a handling unit: an anthropomorphous robot picks up the pieces extracted from the lower mould half and positions them on the machine edge, which permits greater programming and handling freedom and improves subsequent automations.
Pieces removed from the moulding machine (platform and crosspieces) are assembled in the fine line automation plant, where they are also labelled to ensure management and traceability.